Pipe Seals
Here you can find a large variety of pipe seals that can be used on different applications.

Need any help?
Phone hours
Monday - Thursday
7:30 - 16:00
Friday
7:30 - 14:30
Saturday, Sun- og Holidays
Closed
Between Christmas & NY
Closed
The day after Christ's Ascension
Closed
Phone: +45 7516 9029
24/7 support: +45 7694 6470
Email: info@lhi.dk
Wall Seals (Insitu-Seal)
Wall Seals provides and efficient method of making a 90° connection of plastic- or steel pipes onto materials with wide wall thickness such as concrete chambers, concrete pipes etc.
Wall Seals allow for angular and lateral misalignment of the pipes and provide an effective seal against water penetration along the pipe.
We deliver the seals in both EPDM and NBR. The Wall Seal is VA approved and it can withstand hydrostatic pressure of 0,5 bar.
Advantages
High performance and effective seal
Quick and easy to install
Cost effective and secure solution
VA approved
Insitu-seal
Insitu-Seal provides an efficient method of making a 90° connection into twinwall and ribbed pipe systems.
By drilling a hole into the twinwall or ribbed pipe, the Insitu-Seal is then inserted to allow the connecting pipe to be positioned until it reaches the bottom of the seal. The Insitu-Seal is manufactured in SBR rubber with nitrile available upon request.
Advantages
Easy installation
Cost effective
VA-approved
With built in stop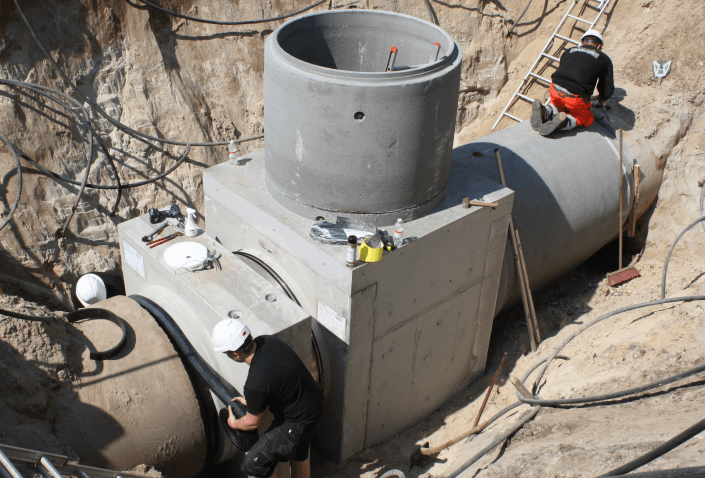 Contact us
Do you have questions to our products, solutions or services? Or are you looking for help with calculations or dimensioning? We are ready to help you. Fill out the form below and we will contact you as soon as possible.